World Tolerance Day and Pakistan
All the religions of the world have taught mankind patience and forbearance and exemplified the lives of the Prophets and the chosen ones of every age.
In Islam and all other religions, the patience, perseverance and sacrifices of the Prophets and spiritual figures in the ordinary life and difficulties in the path of da'wah and preaching have been specially mentioned.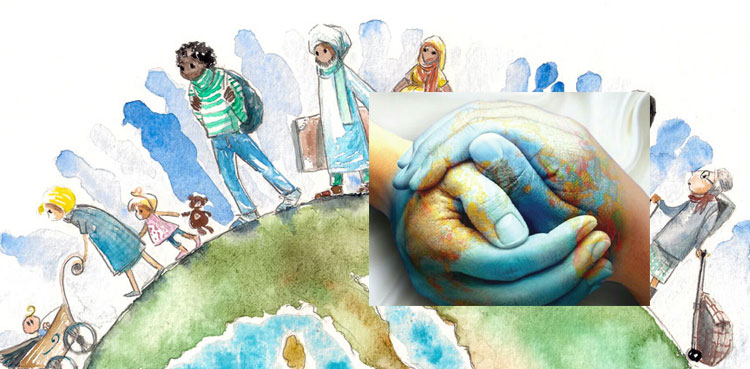 Today is the International Day for Tolerance and Tolerance. This day is celebrated every year on November 16 under the auspices of the United Nations. Peaceful societies around the world are made possible by recognizing and recognizing the fundamental rights of human beings, including religion and belief, culture, language and their right to vote in any matter.
Speaking of Pakistan, our society in many ways seems to be disgusted with this philosophy of life and way of life which can be helpful in changing the collective condition of any nation and making it prosperous. There are many reasons for this, but today the need to educate the Pakistani people about the importance of patience and endurance has increased many times over.
                                        WATCH THIS
Intolerance is having a devastating effect on our society which has also affected the capacity and capability of the individual and every group in the society. One of the purposes of celebrating the International Day for Tolerance and Tolerance is to teach people to respect the beliefs, opinions and opinions of others. There are people of every nation, color, race and religion in Pakistan who accept each other's beliefs and opinions with brotherhood, unity and tolerance as a means of maintaining peace and development.
In order to promote tolerance, tolerance and tolerance in Pakistani society, the government should organize seminars and sessions in which scholars, intellectuals, scholars and teachers should participate and express their views, but this The task is not only for the government but also for the interpreters of various religions and sects across the country and the heads of the leading organizations and doers to bring the people together on their platforms and make them aware of this.
A study of human history reveals that intolerance has been a major factor in most of the conflicts behind the killings and riots, but today the world has come together and we have such an environment and style. Have become a part of life, in which the positive or severe negative reaction to any event emerges in the blink of an eye through social media. It is a fact that in this age if the different nations of the world are not ready to tolerate their opponent or his will and opinion in any field including the border then a situation of confrontation and confrontation arises and as a result a Not only society but also world peace can be affected. An example of this is the world wars in which when different countries united for their own interests, they gave the world nothing but bloodshed and horrible destruction.
German dictator Hitler is blamed for World War II, under whose Nazi forces millions of people were killed. Announcing this at the UN General Assembly, all member countries of the world were invited to observe this day in order to develop a peaceful, positive and constructive society and thus this day was observed for the first time in 2005.
Needless to say, intolerance of dissent has become common not only in Pakistan but also in the civilized and developed societies of the world. Whether it is America or other western countries, Europe or Asia, the world is facing global intolerance in which innocent lives are being lost and property is being destroyed. We have the example of Afghanistan, Iraq, Iran, Syria, Palestine, Kashmir. In the same way, many conflicts of the past have been devouring every precious human life, including innocent children, while most of them could have been resolved through dialogue and strategy in a forum.
In our country, there is little scope for scholarly and intellectual discourse, while it is often difficult to express one's opinion on linguistic and cultural grounds, except for the common people. There have been a number of incidents involving religious minorities that reflect intolerance in society.
In Pakistan, it has become common for social media to throw mud at political opponents or in any field after disagreement on any issue and in such disputes and debates, the families of the opponents are also dragged away by the parties. There are many examples of this in front of you. Personal attacks are the worst example of intolerance which has tarnished high moral values ​​and human qualities.
Islam urges us to adopt the highest human qualities such as patience, forbearance and tolerance. Similarly, similar teachings are found in other divine books and other religions of the world in which tolerance, brotherhood, love and unity are mentioned in the mention of excellent human qualities.
Common differences aside, it is natural for two individuals or any nation and group to have conflicts and heated debates, but within the realm of literature and civilization, with common sense, reasoning, logic and intelligence. Obeying one's word is the highest human attribute.
Demonstration of intolerance also adversely affects a person's life and has such a negative effect that gradually his ability to think and understand is lost and he is called rude, aggressive and abusive and quarrelsome in the eyes of others.
On the occasion of this day, parents should teach tolerance and tolerance to their children and also teachers at school level and give them opportunity to read or listen to such articles, stories etc. which will help them to understand the importance of tolerance. It is important to point out that tolerance, forgiveness and tolerance are very important elements for living a balanced and fulfilling life.
If we study the lives of the most successful people in the world with the prophets and spiritual figures, then they have shown wisdom and awareness at every opportunity with patience, conviction, forgiveness and have reached their destination by overcoming obstacles. If the world's most reputable and notable names have done anything from the establishment of peace to the development of societies after the revolution brought about by the elites in their nation (transformation and societies), then their greatest weapon was tolerance. ۔
WRITTEN BY:: RIASAT GONDAL